The trend of tattoos in Nepal is ever-growing. From film stars to singers, every other guy living in Nepal now has a tattoo.
There are two sides to the tattoo. It is permanent. It is both the good side and the bad side of the tattoo.
If you want something to stay with you forever then it is a good idea for a tattoo. In the other hand at any point in time, you decide, "You don't like your tattoo anymore?" Then what?
Generally, tattoos are permanent. However, it is possible to remove it partially or fully with the help of medical treatment.
Laser Tattoo Removal
In Nepal, we can see two methods of tattoo removal in practice. One of them is laser tattoo removal. The "standard tattoo removal modality" is the non-invasive removal of tattoo pigments through Q-switched lasers.
Based on the unique light absorption spectra of the tattoo pigments, various types of Q-switched lasers are used for targeting different colours of tattoo inks.
Use Q-switched lasers, black and other darker-coloured inks may usually be removed completely, although lighter colours including yellows and greens are often very difficult to remove.
Success can depend on a wide range of factors including the colour of the skin, the colour of the ink and the depth at which the ink has been applied.
Tattoo Removal by Replacement
Well, Some wearing people want to take a fresh tattoo to cover an unwanted tattoo. This is generally called a cover-up.
An artfully crafted cover-up can make the old tattoo completely invisible, although this will largely depend on the size, style, colours and techniques used on the old tattoo and the tattoo artist's skill.
Covering a previous tattoo requires darker tones in the new tattoo to effectively hide the older, unwanted piece. This practice is really common in Nepal. As it is cost-effective and does not takes a lot of efforts.
Tattoo Removal Clinics in Nepal
There are a few tattoo removal clinic in Nepal. The one mentioned below not only does tattoo removal but also does, liposuction, dark spots removal and other cosmetics medical treatment procedures.
Meanwhile, the price of tattoo removal in Nepal ranges from Rs 15,000- 30,000+. It is thrice as expensive as getting a tattoo. So, think before you get inked. You will be saving yourself from spending cash, potential scar, and pain that comes with tattoo removal.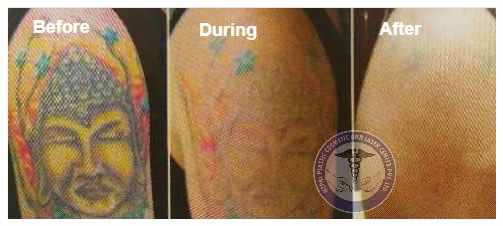 Nepal Plastic Cosmetic And Laser Center
Dhobighat -4, Lalitpur, Nepal | Contact: 9808786049
Any queries relating to the tattoo removal in Nepal? Just write in comments below; I will try to solve all of them.