Trust me! There are people on this holy planet who love beer more than their wives.
The love for beer makes people crazy. Hmm! How about having a sip (or two) in a beautiful piece of land on earth?
Wanna try beer in Nepal? What are my options? Is beer cheap in Nepal? How strong are Nepalese beer?
Well! All of us have a lot of questions when it comes to Nepalese beers. Let me fascinate you with truth: Nepal brews one of the best beers in the world different than the regular one.
No doubts! If you love beer and want some new taste. Nepal is the place. Afterall what can beat the combination of beautiful sceneries and a beer?
Before everything: The legal age for drinking alcohol in Nepal is 18. Let's begin the list of the top beers found in Nepal:
10 Best Beers in Nepal
Gorkha Beer
This beer is produced by Gorkha Brewery which holds the largest percentage of market share. The beer comes in two variants, strong being the popular one.
It was launched in the year 2006. Gorkha Strong has an alcohol percentage of 6.0%. The beer costs $3.2 in Nepal. The price might vary for online deliveries.
Tuborg
Tuborg was the first international brand of beer introduced in Nepal. The beer was available to the public in the year 1990. It is now the most selling and most preferred brand of beer in Nepal.
Tuborg is also brewed by the Gorkha brewery. It comes in different variants and in different sizes. Tuborg beer is brewed in the Pilsner style. It costs around $4 in Nepal.
Carlsberg
Carlsberg is a European Pale lager type of beer that was introduced to Nepal in 1995. It comes in bottles of 650ml and cans of 500 ml. This beer is one of the leading brands and has an alcohol percentage of 5%. It costs around $4.
Tongba
Tongba is a millet-based alcoholic beverage. It was originated in the Eastern part of Nepal by the people of Limbuwan. The beverage is also culturally and religiously important to the Limbu people.
Offering Tongba is a symbol of gratification among the Limbu peoples. This beverage is widely sold in restaurants in major cities of Nepal. However, the original taste can be enjoyed in the hilly region, Taplejung. It costs around $1 is the most local places.
Arna Beer
Arna beer is one of the most popular beer in Nepal. It comes in two variants of strong and light. Arna is brewed by the venture Yeti Brewery. The beer is sold in all major cities and restaurants in Nepal. It is priced at $2.6 per 650ml bottle.
Sherpa Beer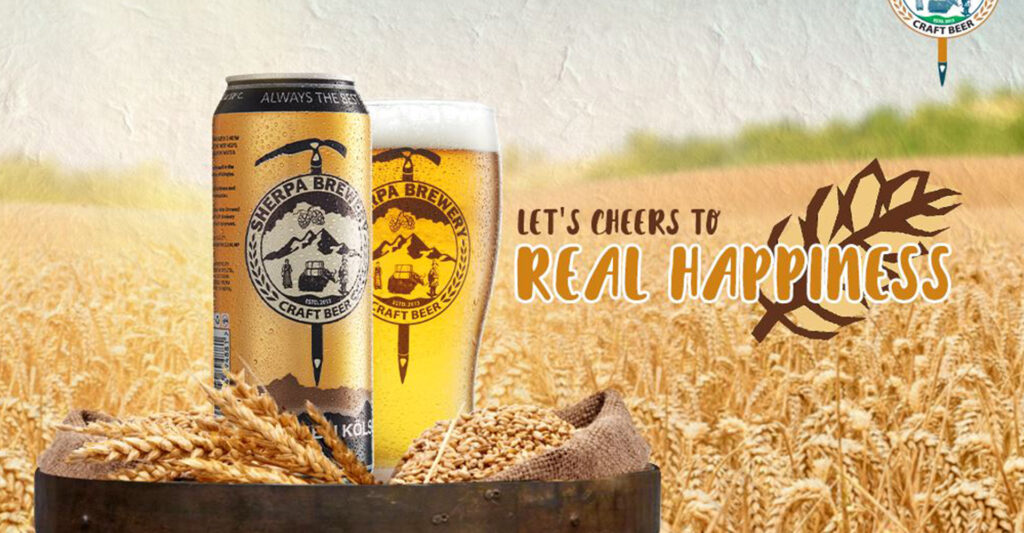 Sherpa beer produced by the Sherpa brewery was established in the year 2013. No doubt, the company is taking a huge sum of the export market. They are also claimed as Nepal's first craft beer. They come in two different variants; Red ale and Kolsch. They are sold in 500ml can and each one costs about $2.5.
Commando Beer
Brewed by: Himalayan Brewery  Ltd.
Price: Around $3.5 / 750 ml bottle 

Nepal Ice
Brewed by: Chaudhary Group's Sun Gold Brewery
Price: Around $3 / 750 ml bottle
Everest Beer
Brewed by: Mount Everest Brewery
Price: $ / 650 ml bottle
Conclusion
If you want to make your Friday night worth it, then, you need to grab the beer. What's better than having a cold glass in the beautiful weather of Nepal?
Don't forget to leave us a comment and do drink responsibly. Also, don't forget to suggest if we missed any of the beers on the list.