Planning a honeymoon in Nepal? Well, you won't regret coming to Nepal to create good memories with your loved one. Nepal is naturally rich and filled with romantic destinations.
You will find amazing river beaches, hills, rivers, mountains and every other natural scenario you can think of in your mind. Most important of all, Nepal is one of the cheapest destinations in the world where a hotel room might not cost you more than $15 per night.
Yes, you heard it right! Creating good times together with a little.
You can rely on a small budget for a long stay and have relaxing times of your life. Not to forget you can witness cultural practices and historical sights too. Here is the list of those fantasy destinations to visit in Nepal:
Places in Nepal for Honeymoon
Pokhara
Pokhara is a city located in the lap of hills and mountains. It is also fulfilled with beautiful lakes and waterfalls. There are a lot of adventurous things you can do in Pokhara. Ranging from para-gliding to kayaking, you can turn your honeymoon a remarkable trip.
Most of the hotels in Pokhara are also located at the bank of Rara lake, which ensures a beautiful view all the way from your hotel window. Peaceful moments can also be spent at the bank of the lake which is accompanied by a few restaurants.
Traveling to Pokhara: Visitors coming from India (Delhi) can also take a direct bus if you love long trips and watching outside of the window. Nevertheless, there you can also take a flight to Pokhara from Kathmandu airport.
Key Attractions: Phewa Lake, Mountain international museum, Varahi temple, Nightlife, etc.
Sunkoshi Beach
Sunkoshi River which originates from Tibet is part of the Saptakoshi river system in Nepal. Nepal being a landlocked country has no oceans and beaches around. Therefore, the idea for the plantation of the artificial beach has gone a hit.
Talking about adventure, Sunkoshi (River of Gold) is known for rafting since a very long time. Additionally, the scenic view of this place won't let you take your eyes off them. This beach lies in the Araniko highway and is located at a few kilometers distance to the capital city.
Traveling to Sunkoshi: Various travel and tours agencies offers round trips to the sunkoshi beaches' hotels. Usually, they have a package including rafting, food and one-night accommodation. 
Key Attractions: Camping, Rafting, Beach volleyball, Kayaking, traditional breakfast. etc.
Jomson
Cool-weather, beautiful mountains, and flowing river by your side. What more do you need to make yourself a good honeymoon?
Jomsom is a hill station which is located in the Mustang district. It stretches along the two banks of Kali Gandaki river. It has attractions like Dhumba lake which is a hidden gem. Also, a museum located in Jomson will make your trip informative one.
Traveling to Jomsom: You can hire a mini-bus or jeep fro  Pokhara or Kathmandu to get to Jomsom. The journey takes about 7 hours from Kathmandu. You can also catch a flight from both the places.
Key Attractions: Dhumba Lake, Mustang Eco-Museum, Leopard cave, Rupse Falls, etc.
Chitwan
Chitwan is one of the districts of Nepal which is located in the plains. It has Chitwan national park as its major attraction and is located in the subtropical inner Terai low-lands os south-central districts in Nepal.
Chitwan used to the favorite hunting ground for Nepal's Royal family in the 19th century. It is home to 68 mammal species including the Bengal tiger. For people who love animals and Jungle safari, Chitwan is heaven.
Traveling to Chitwan: You can catch a bus from the capital city to reach Chitwan. The bus services are available both during days and nights. Also, different cities located in the plains of Nepal offers bus services to Chitwan.
Key Attractions: Jungle Safari, Bird Watching, Canoe rides, Cultural tours, etc. 
Ilam
Ilam is one of the urban municipalities located in the eastern hills of Nepal. It is one of the major tea-production are of Nepal. It is famous for landscapes, natural scenery, and diverse agricultural economy.
The best things to be expected in Ilam are beautiful weather, greenery, and hills. It is cold in winter and mostly foggy in other seasons. Besides tea production, it is also famous for production for the cultivation of other cash crops.
Traveling to: You can find daily buses departing from the capital city. The drive takes about 12 hours and is accompanied by beautiful sceneries of Eastern Nepal. You can also take a flight to nearest airports like Bhadrapur or Biratnagar and hire a vehicle for getting there.
Key Attractions: Pathibhara temple, Tea gardens, Antu Lake, Mai Pokhari, etc. 
Nagarkot
Nagarkot is a VDC which is located 32 kilometers east to Kathmandu and offers a great panoramic view of the capital city. It is famous for the sunrise views of the Himalayas including the Mt. Everest.
Nagarkot is a good escape from the crowded capital city and also offers great weather throughout the year. The roads to Nagarkot are filled with greeneries. It used to be the summer retreat for the Royal family of Nepal before becoming an international hills station.
Traveling to: The best way to travel Nagarkot is via Kathmandu. Every day, tons of buses are available running on a daily schedule that stops at Nagarkot. You can also find taxis from Kathmandu that can take you to Nagarkot in less than $20.
Key Attractions: Buddha peace Park, Hiking, Sunrise, View Tower, etc.
Bandipur
Bandipur is a hilltop settlement and is located in Tanahun District, of Nepal. It is famous for Newari people and their cultural display. People enjoy the traditional row houses which preserve the Newar culture.
It is one of the most visited tourist destinations of Nepal which offers breathtaking views of the mountains. This place has the ability to make you feel special and is the must-visit place when accompanied by your loved one.
Traveling to: Travelling to Bandipur is the easiest from the city of Pokhara. You can expect to get a one-way private vehicle for under USD 35. Also, you can hire a vehicle from Kathmandu as it lies close to both the cities.
Key Attractions: Khadga Devi temple, Sidda cave, Homestays, Seti Gandaki river, Kayaking, etc.
Kathmandu
Kathmandu is not only the capital city of Nepal but a tourist hub as well. It has the only international airport in Nepal. Not only it is rich economically but also has a rich culture and traditions.
The capital city is famous for its diversity. Different kinds of modern and traditional attractions can be found in and around the Kathmandu valley. It is also called the city of temples and can add a taste of spirituality to your life.
Traveling to: Being the capital city of the country, Kathmandu holds the only international airport in Nepal. Thus, anyone traveling to Nepal by air steps at Kathmandu. Road travel means are available from various cities of the neighboring countries, India and China. 
Key Attractions: Pashupatinath, Narayanhiti Palace Museum, Swyambhunath, The Garden of Dreams, etc.
Gorkha
Gorkha is the home town to the great king of Nepal, Prithivi Narayan Shah. Shah unified the kingdom of Nepal about three hundred years ago and his unification campaign began from this town. It is the place where tourist begins hiking the Manaslu circuit.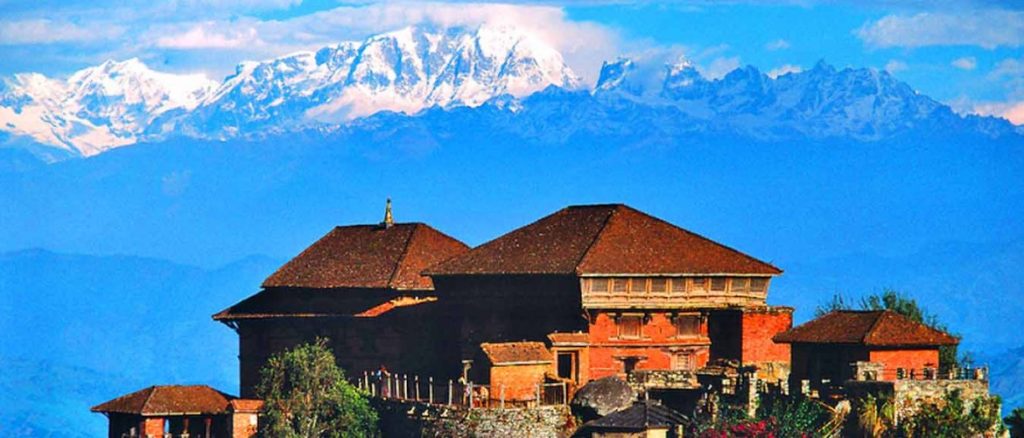 The old palace still maintains the charm of the old ages. This place is also famous for the bravest-of-the-brave troops in the world. Want to spend some good times with your partner and taste of historical periods? There is no better place then the land of the Gorkhalis.
Traveling to: You can easily find public transport from Pokahra or Kathmandu leaving from the local bus stands. One can also hire a taxi from Kathmandu or Pokhara to Gorkha. 
Key Attractions: Kalika Temple, Gorkha Museum, Gorkha Palace, Manakamana Temple, etc.
Markhu
Markhu is a beautiful town located on the shores of Indrasarovar reservoir, which is a man-made lake that serves the Kulekhani Hydropower project. This place is famous for the scenic beauty of the hills around and the beautiful lake.
The local lifestyle that can be enjoyed by visitors is also one of the major attraction of this place. Roads leading to Makrhu goes through jungle and hill roads which is another unforgettable experience. Nevertheless, the homestays located there is where you can give yourselves a memorable trip.
Traveling to: The easy way to go Markhu is by catching a bus from Thankot, Kathmandu. You can also hire a taxi or van for a few bucks.
Key Attractions: Boating, Homestays, Goat Farm, Kulekhani Dam, Hiking, etc.
So, the choice is yours! A fantasy honeymoon in a low budget or an empty pocket?