Handicrafts in Nepal are very popular among people. Many internal and external tourists in Nepal buy these little masterpieces as a gift or as a memory.
Nepal, as a country has a very rich heritage when it comes to culture and a variety of people who live in harmony. With the fusion in culture, we also get to see a unique combination of art and culture.
I am fascinated by the range of handicrafts that are sold in Nepal for a decent price, and I'm sure that these will also make you a very good gift. So, without any delays here is the ultimate list of Nepal made handcrafted items for you.
Handicrafts in Nepal
Nepali Jewelry
Nepalese craftsmen have experience in the production of innovative designs and product development. In Nepal, silver making is a traditional event and has been passed down for generations.
This is a highly labor-intensive work and creating more opportunities for them in this field will lead directly to more employment. Nepal's markets also offer a selection of Indian or locally produced jewelry.
Location: Ask the local jwellery shops for handmade items. Most of the items are handmade.

Price: $50- $5,000
Pashmina products
In Persian, the word "Pashmina" itself translates into "soft gold." It is known to be one of the fibers that are the softest, most delicate, and fluffy. They are warm, light in weight, and beautiful in appearance.
Location: Local cloth shops in happening places in the Kathmandu Valley

Price: $10-$500
Dhaka Topi
Also known as the 'Nepali Cap' or 'Nepali Topi'. An ever-smiling face with a sweet little 'topi'(cap) on top is one of the main appearances of Nepalese men who come to our minds. In fact, they are called Dhaka ko Topi, which means headgear.
Location: Thamel, Kathmnadu

Price: $4- $60
Nepali Khukuri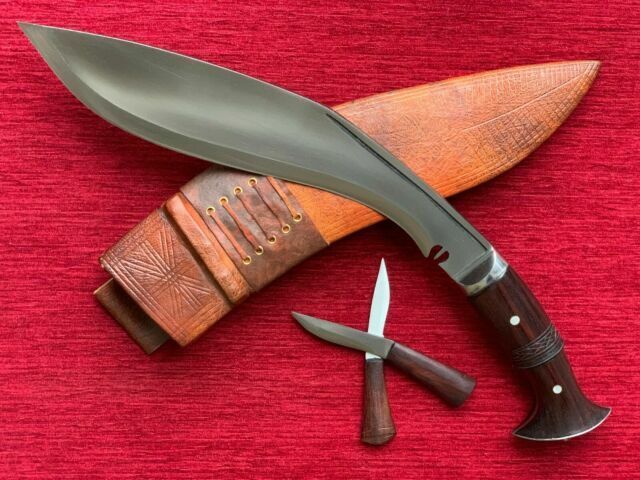 Khukuris are historically a deadly weapon and one of the world's most unusual and powerful daggers. It is Nepal's national weapon and holds both a special and an important position in Nepalese history. It reflects Nepali traditions, history, and spiritual beliefs to some degree.
Location: Most of the local gift shops

Price: $10- $500
Nepali Thanka Cloth
Tibetan thangkas (Thangka paintings) are said to help establish a simple visualization of a specific deity, enhance their focus, and forge a bond between themselves and the deity.
Thangka paintings have historically been appreciated not only for their artistic quality but mostly for their use as aids in meditation activities.
Location: In gift shops nearby Swyambhu Temple or any other attraction belonging to Buddhist religion.

Price: $5- $600
Nepali handmade paper
In Nepal, the Tibetan travelers who migrated to this area brought handmade paper. Recycling waste paper is the traditional process of making one of the oldest crafts in Nepal and is a cumbersome technique.
Location: It is found in many stationaries as they are still used in many legal binding documents.

Price: $10
Wooden handicrafts
Nepal is lucky to have acquired the lush green forests and hardwood trees in the foothills of the Himalayas. Needless to note, these trees are a source of precious timber that the inhabitants use extensively. Wooden craft has been, since time immemorial, a pride of Nepalese architecture.
Location: Different gift shops located in tourist attraction spots.

Price: $5- $500
Buddhist Prayer Flags
When you visit Nepal, you are expected to see colorful flags fluttering around the holy shrines and highlands. Elements such as air, fire, water, and Earth represent these red, blue, yellow, white, and green Buddhist prayer flags.
These flags include holy mantras and symbols that are thought to create divine energies that are emitted as the wind blows.
Location: In shops near by the gumbas and other religious places sacred to Buddhism.

Price: $20
Nepali Clay Products
To make them shine, molded clay products are baked and occasionally glazed. The excavations of these clay items in Nepal, also known as terracotta, date back to more than two thousand years ago and are therefore an ancient art form in Nepal.
Location: Local vendors often selling on popular street corners in Kathmandu.

Price: $2- $200
Nepali homemade statues
Tourists typically love to take a piece of this sacred memory from Nepal with little sculptures or an idol of a deity. The bulk of these sculptures are of a Hindu or Buddhist deity with varying designs and shapes.
They are manufactured from diverse materials, such as brass, copper, clay, etc. These sculptures can be used as an idol of the payer or as a great special showpiece that you can purchase or send to anyone for yourself.
Location: Jewlleries and gift shops

Price: $10- $10,000
Conclusion: Best Nepali Handicraft?
Some of the handicrafts are preferred more than the other because of their size or prices. However, all of the handicrafts in Nepal are manufactured by hardworking Nepalese people who deserve to celebrate their efforts.
Please don't hesitate to buy one as a gift to someone you know or maybe to yourself if you encounter any on the streets. Also, which among these is your favorite handicraft? Please let us know in the comments.