This article will take you to the flavours found in streets of Nepal. Have a  look at the five famous Nepali food that you mustt try. By the end of this post you will know about the favourites of every Nepalese foodie.
Apart from the variety of wild animals, Nepal also has a wide variety of unique food. The food available in different parts of Nepal is highly different based on ethnic groups and land topography.
Neighboring countries like India and China have high influence. However, the recipe twisted with the need of time and availability of ingredients.
Some of the dishes might be best available and served in only certain parts of the country. It might not be the original taste but they are still easily available in the major cities. We have summarized a list of famous Nepali food or cuisine that you should absolutely try while you are in Nepal:
5 Famous Food in Nepal
Spicy Cuisine 'Choila'
Choila is a Nepali dish said to have originations from the Newari community. It is typically spiced as well as grilled buffalo meat which is also available in variants of goat, chicken, and duck. It is one of the most famous food in the hilly and Terai region of Nepal.
Recipe: Duck Choila Recipe by Chef Binod
Its taste is hot, spicy & mouthwatering and the flavor spreads as you bite pieces of Choila. People consume it mostly with rice flakes (Chiura) for lunch.
Duck Choila is also one of the best dishes available in the lower lands of Nepal and is one of the special dishes of the Tharu community.
Sel Roti
It is a traditional Nepali ring-shape doughnut. People use rice flour with customized flavoring while making sel roti.
The usual ingredients are rice flour, cardamom, clover, sugar, ghee, water, and butter which is made as a semi-liquid dough before cooking it on oil.
It is one of the major food cooked during festive times including most sacred festivals of Hindu religion like Dashain and Tihar.
Recipe: Sel Roti Recipe by Anup Kitchen
Nepali Style noodle 'Thupka'
Thukpa is a kind of Tibetan noodle soup that originated in the eastern part of Tibet and the northern part of Nepal. This noodle is widely popular in cold areas of Nepal, China, Bhutan, and India.
However, Nepal serves a huge variation of thukpa and leads among all. It is usually spicy and is served hot along with pieces of vegetables and meat. Thukpa is also served as street food in many parts of the country.
Spicy 'Laphing'
Laphing is a kind of spicy cold mung bean noodle which also shares Tibetan origin. It is served dry as well as with soup.
Unique spicy taste with customized flavoring and cold serve makes this food a popular one. You can find Laphing stalls usually in areas of Kathmandu with the Buddhist majority.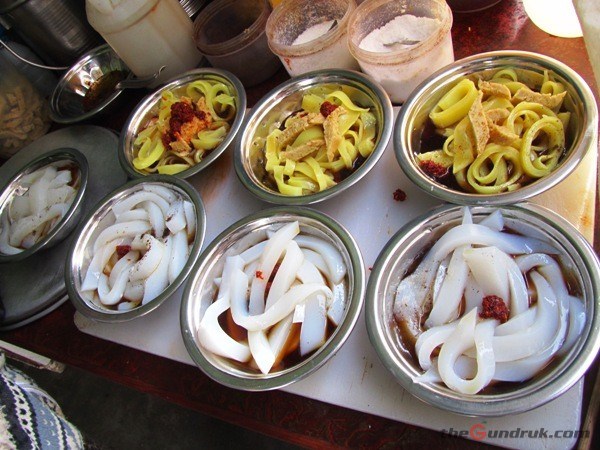 Dumpling / 'MO: MO'
Momo is a kind of Nepali dumpling with fillings covered in white flour dough. In Nepal, momo is one of the most famous dishes and people consume it hugely.
The recipe is said to come from Tibet to Nepal where the Newar community has its hand in making it popular. Momo is also the most popular street food in Nepal.
Many people even consider momo as the national dish of Nepal. From streets to five-star hotels, It is available in all of the places. It even has different variants and customized fillings including paneer,  mushroom, and other vegetables. It even fits with all kinds of meat as fillings.
THE BONUS NEPALI DISH
This list is not complete without the two cuisines which cook daily in the Nepali kitchen. The cuisines are none other than Daal Vaat and Dhido. People of hilly and Terai areas of Nepal highly consume Dal Vaat, whereas Dhido is consumed mostly in northern parts.
This might be helpful for you if you are visiting Nepal soon: 5 Best Hotels in Kathmandu Near Airport
Dal refers to cooked lentils soup which people serve with steamed rice and vegetables. This dish is what Nepalese people consume at breakfast and dinner mostly. Sometimes, meat gravy also substitutes lentils soup.
Meanwhile, areas with higher elevations serve Dhido. It is simply buckwheat flour or cornflour mixed with ghee & water to make a dough and cook it in a pan until water evaporates. People often serve this food with vegetables.
So, this was all about the most famous foods in Nepal. Write in comments, which one you would like to try first?