The Tenzing-Hillary airport also called as the Lukla Airport is considered the world's most dangerous airport. This airport is located at eastern part of Nepal in a district named Solukhumbhu.
It is a small airport located in a town named Khumbu which experiences breath-taking landings every day. So, why is Lukla airport the most dangerous airport in the world?
Well, before knowing the fact why it is considered the most extreme airport in the world? Let us first know why people are limited to use flights to this airport despite close calls every other day.
The Lukla airport is the closest airport to the Mount Everest. It is situated at an altitude of 2,860 m. Namche Bazar, where the climb to the Everest starts, is just 4-5 hours walking distance from Lukla Airport. The exact distance from Lukla to Namche airport is 13.5 kilometers to be exact.
Did you know? There are about 49 fully functioning airports in Nepal. Catch the list of all airports in Nepal.
The journey from most of the parts of Nepal would probably take up to 20 hours in a bus or jeep in order to reach up to Namche Bazar. However, airplanes can get you there in just 30-35 minutes from Kathmandu.
Why is Lukla Airport Most Dangerous Airport in The World?
There are different factors contributing to the status of this airport, have a look at all of them below:
No air navigation or radar system: The employees of Tenzing-Hillary airport have to entirely depend on traditional means of radio communication in order to design a perfect landing and departure. The reason behind this is lack of proper fund to afford a radar system as this airport is only busy during suitable months for climbing Everest.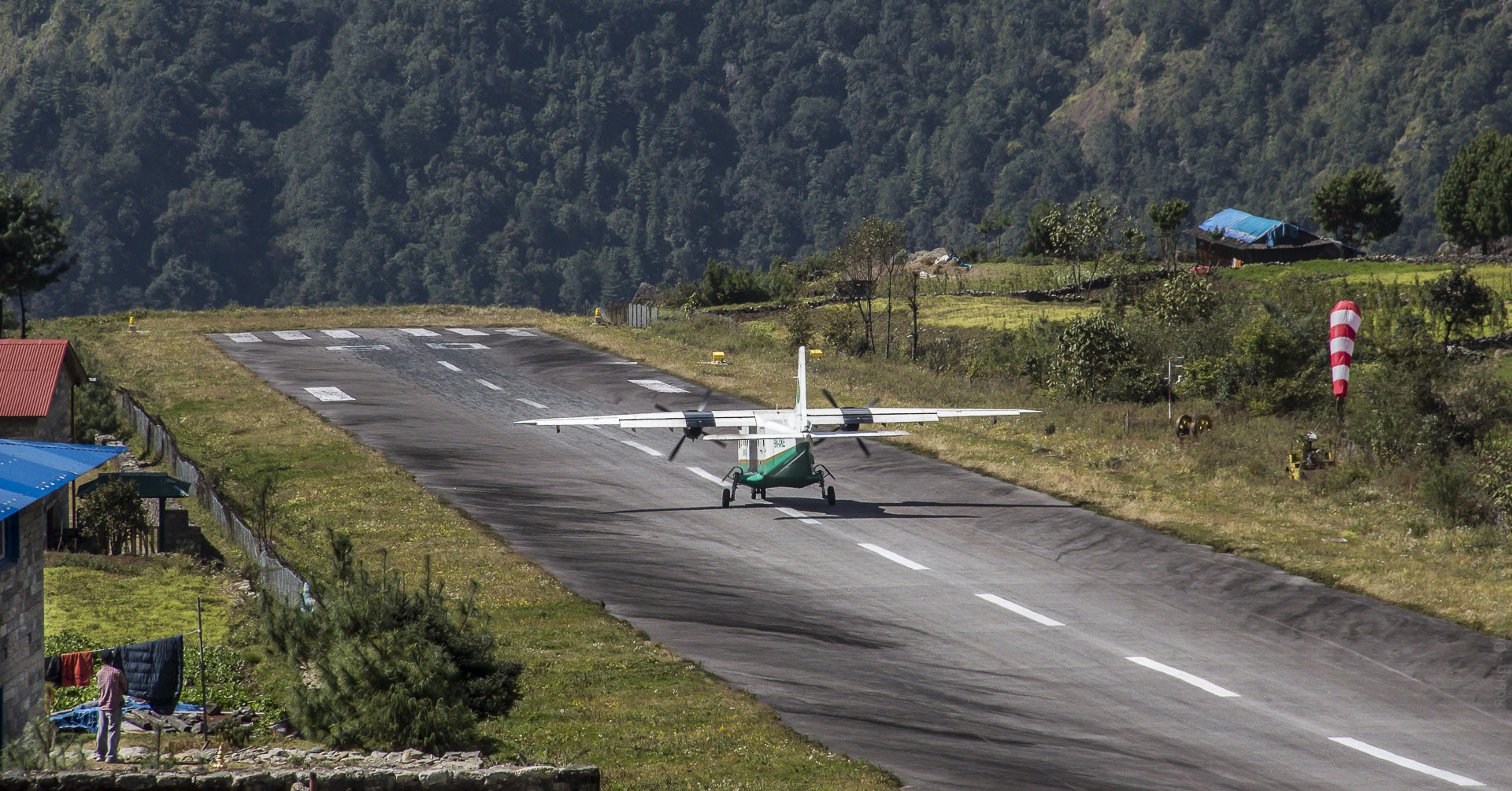 Small runway: The runway of Tenzing-Hillary airport measures just 527m. This breathe-taking runway stands fourth among the smallest runways in the world.
Flying between hills: Nepal is such a country where you can find altitude as low as 70m and high as 8848m. So, the different land topography is a sure thing here. Before landing at Lukla an airplane needs to precisely fly between two hills followed by a sharp turn in order to land correctly.
Weather conditions: At such a high altitude, windy conditions are common. The show of sudden changing climate also favors making Tenzing-Hillary airport difficult for landing.
Perfect landing: This is a lesser known fact about the airport but there is a very high cliff on the side of the airport. As the airport is situated on the top of a hill, a little careless landing might be devastating.
Watch the Lukla Tenzing-Hillary airport's video via YouTube.
Despite the various challenges, the airlines' company are able to provide a safe flight to the passengers. Talking about the risks, landing at this airport will surely be hard for a beginner pilot. But, only hard trained professional pilots have to take care of this duty. So, don't worry about the risks and enjoy the adventurous journey.